ReptiRescue NI – Dennis Dunne: Meet the Derry man rescuing unwanted reptile pets: 'By age 20, I had stingrays in my room'
'Dr Dolittle' Dennis out to educate owners after setting up his own reptile rescue service
Dennis Dunn (33) runs ReptiRescue NI from his Derry home, taking in and rehoming reptiles when their owners no longer want them. The dad-of-three says the rising cost of living — as well as people not realising the commitment owning a reptile entails — has led to an increase in the number of animals that are unwanted, and he's currently getting around half a dozen calls every day.
"To anyone thinking of owning a reptile, I'd say please do your research first," he says. "Some species can live for over 20 years — it's a big commitment. They become a member of the family.
"Then there's the costs; I can be spending £10 a day on electricity and a jumbo rat, to feed a snake, costs around £15. People don't realise that even a corn snake can grow up to 6ft long and will need a bigger enclosure — and that might be £250.
"I will do a full week of research before I take in any new species so I know exactly what their needs are."
Dennis grew up in Northamptonshire and spent time living in Manchester before moving to Derry in 2012 with his Northern Irish partner Lauren White.
"I volunteered at an animal shelter as a teenager and by the time I was 20 I had about 40 reptiles in my bedsit. I had an 8ft fish tank in my bedroom with a breeding pair of stingrays."
He trained as a dog handler and behaviourist, and spent time working at a kennels and animal shelter with dangerous dogs. After moving back to Derry, where Lauren is from, the couple welcomed their children Ellie (9), Noah (5) and Orla (2).
"I love it over here," says Dennis. "The scenery is incredible and the people are really welcoming and friendly. You walk down the street and people say 'hello' to you. Derry is a nice city because it's not too huge or busy."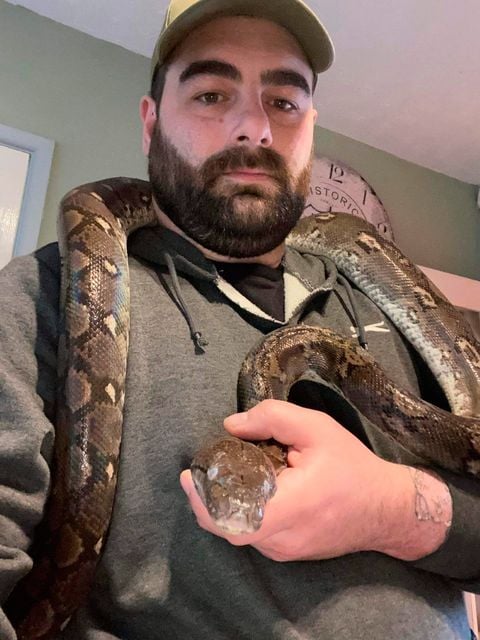 Dennis spent time working for pet shops Jollyes and Pets at Home, as well as volunteering for local rescue centre St Columb's Animal Rescue and Rehoming (SCARR). The family rehomed a puppy, collie Maisie, from the charity five years ago. It was while working at Pets at Home that he realised how many reptiles were unwanted.
"I remember one day, someone literally just dumped a box of snakes at the till and walked away," he recalls. "So many people were asking if we took in reptiles. Every time I looked on Facebook I found more adverts saying 'snake free to good home' or 'lizard free to good home'. I was sick of seeing it so I decided to do something about it."
Dennis initially launched ReptiRescue NI in spring 2020, around the time of the first Covid lockdown, and says in the space of a year he took in and rehomed over 400 reptiles. But with baby Orla in the house, his rescue efforts then took a backseat for a while. Towards the end of 2022, he decided to renew his rescuing and began rehoming reptiles again. He realised the demand was even higher as people were struggling with the cost of living.
"I'm entirely self-funded, although I do get donations, and people also give me food and equipment," he explains.
"I do work with people to help them keep their reptiles wherever possible. Every reptile I take in gets a check-up with the vet too before it can be rehomed; and we pay those vets bills ourselves."
Dennis also goes live on TikTok for around an hour every evening, via his channel @reptirescuen.i, in a bid to educate people about keeping reptiles. He is looking for a premises so he can move ReptiRescue out of his home and increase the capacity he has for taking in reptiles.
"I'd like it to be a base where people can come and find out more about caring for reptiles too," he adds. "They can come and see some of the reptiles we have in, have a cup of tea and learn about them and see if reptile keeping is for them. I need a pet shop licence and insurance too — I'd like to be able to rescue venomous snakes but I need the right insurance and paperwork."
Dennis, who currently works as a supervisor at a cleaning company, says his dream job would be in a zoo.
"I would turn our house into a zoo if I could," he laughs.
​To contact ReptiRescueNI, telephone or WhatsApp Dennis on 07800 637129. You can also donate here.
SEO Content Writing Services